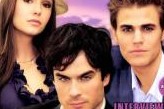 You shoot in Covington in the estate of Georgia, do you like shooting far from Los Angeles ?
Paul Wesley : I grew in the East Coast then I lived in Los Angeles, so at the beginning, it was difficult to me to get used to this new life far from the ocean and the mountains. But now, I discover this South culture of the United States I didn't know before and I'm glad of it. As I like doing new experiences, I'm happy to discover new places. Besides, thanks to the TV show, I can travel throughout the world and I love that. The fact we shoot far from Hollywood really helps us to focus on the show and we created strong bonds. If we had shot in Los Angeles, we would be tempted by several things and we wouldn't do our work as perfectly as we do now.
Nina Dobrev : You're right, we're very close to each other. This is an amazing cast. Everyone is pretty cool. Even if we didn't work together, I would like to be friends with the other actors of the show because they're great. We spend all our free time together.
Ian Somerhalder : The show wouldn't work if it wasn't shot in Georgia because of the traces still visible of the Civil War in this Estate. The area is wonderful. It's also far from big towns and the medias. In Covington, people don't pay attention if we're actors or not. We're in a bubble. We love our fans, but we can be focused on the show without being disturbed in Georgia. Besides, it's only one hour of flight from my home, in Louisiana.
Who jokes the most on the set ?
Nina : Everyone ! I like hidding myself to frighten the members of the cast & crew. As the show is shot most of the time in dark and lugubrious places, it's easy to hide and to pop up screaming and frightening to someone.
Paul : In spite of long hours of work, Ian and I love joking. We kindly make fun to each other. It's really a set where we laugh all the time. I like making jokes to everyone and my character is so serious that I've to enjoy myself a bit to compensate. Try to distract Ian when he shoots is always a pleasure ! (laughs)
Ian : And I revenge myself letting surprises in your box !
Some fans would like the characters to create a « menage à trois ». What do you think of this idea ?
Nina : It's not likely to happen because Elena is not that kind of girl.
Paul : I don't think it will happen unless the audience rating decreases so much than the CW needs to spice up a bit the show as in Gossip Girl ! I can't imagine Nina to bed with Ian and I ! I don't think you would accept to play that kind of scene ! (laughs) Anyway, Elena would never do that…
Nina : Yes but the problem is that Katherine would agree with that !
Paul : Yes but Stefan couldn't bear to share Elena or Katherine with his brother.
Ian : Actually, shooting this scene could be very fun, very embarrassing for all three, but also very fun ! (laughs)
If you could produce an episode of The Vampire Diaries, what would happen in the script ?
Nina : Indeed, I dream of producing one day, because I studied production in high school. If I could, I would like to shoot in Paris. Katherine went in a lot of places in the whole world, so, why not Paris ? Katherine could even speak French in an episode.
Paul : I agree with Nina, besides you speak French, don't you ?
Nina : Yes, I understand better than I speak because I've not practised French for a long time. Also, my stepfather lives in Avignon (Nina speaks here directly in French).
Ian : As the Salvatore brothers have Italien origins, I hope it will influence the show. Damon should kidnap Elena and bring her in Toscane for one episode. But Paris, it would be great too, I'm sure Damon speaks French too.
Damon's humanity at the end of season 1 seems to be real or false to you ?
Nina : I think he suffered so much when he believed Katherine dead than he tried to take away all forms of humanity inside him. But now, since his come back in town and his meeting with Elena, he's changing. Elena makes reappear feelings he had buried since Katherine's disappearance. I think his humanity his real, but he's trying to hide it.
Paul : Yes, you think that because you're young and naive as Elena ! (laughs) Personally, I think Damon is manipulator and that we don't have to trust him. Stefan is aware of that and he feels threatened by the attention Damon gives to Elena.
Ian : I don't agree with you. Damon is able to make the good, as Stefan can make the evil. The only times where Damon behaves correctly, it's for Elena. She has the gift to make reappear his humanity and that's the only person in the world to have this power.
According to you, what is Katherine looking for ? What are her plans for the Salvatore brothers ?
Paul : I don't think she has good intentions towards them. She has no human qualities or excuse which could redeem herself. Her behaviour is freaky. I met women like Katherine. They're powerful and very smart, but they use their brain in a negative way. They're true deadly women (« femmes fatales »)
Ian : Katherine is the only one Damon fears. As she has a few more centuries than him, she's stronger than him. I'm eager to see how their reunion is going to happen. But Damon is a fool. He really had to be young and naive to be fooled by a woman like Katherine and keep loving her for 150 years ! He's obsessed with Katherine, because she's his first love, but I find him a little pathetic.
Nina : Katherine is the character the most evil we can ever imagine. I really enjoy myself playing her. I really think she's crazy. She's selfish, narcissistic and her blood-thirst seems to be inextinguishable.
Ian & Paul, was it difficult to behave like brothers on the screen ?
Paul : I don't have any brothers, only three sisters, so I was a bit worried about the relationship I was going to weave with Ian. Fortunately, We became friends quickly. We got lucky. I saw cases where two actors didn't get along and it can become infernal on a set.
Ian : I already have a big brother but Paul really became my little brother in life. Paul is an actor who gives his best and I admire that. We found several common points to each other and one of them is the desire to do the best work as possible on the show. I adore all the cast & crew of The Vampire Diaries, it's my family. After Lost, I was afraid not to find again this warmth atmosphere. Fortunately, I was wrong.