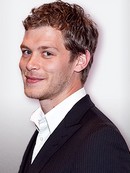 Joseph Morgan est un acteur britannique né le 16 Mai 1981 à Londres.
Né à Londres, Joseph Morgan à la particularité d'avoir vécu 11 ans à Swansea au Pays de Galles. Il retourna néanmoins à Londres pour y étudier l'art dramatique à la « Central School of Speech and Drama ».
Il commence sa carrière d'acteur dans la série TV « Hex » où il interprète le rôle de Troy. S'ensuit alors de multiples rôles dans divers séries comme « Silent Witness », « Doc Martin » ou encore « Casualty ».
Côté films, Joseph est apparu dans « Henry VIII » où il joue le personnage de Thomas Culpepper, « Master and Commander : The Far Side of the World », « Alexander » et « Mister Lonely ».
Il interprète le rôle de Klaus dans The Vampire Diaries.